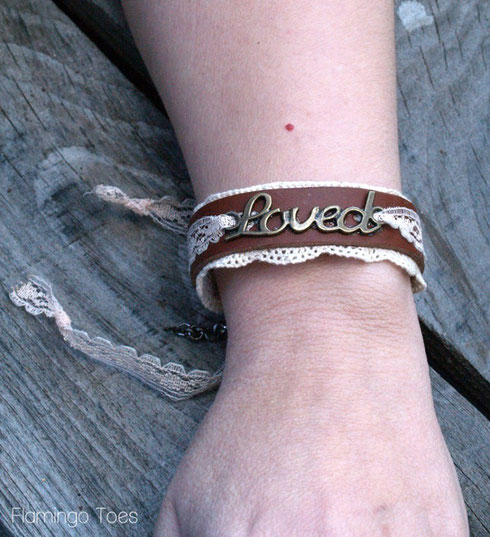 have such a crazy easy tutorial for you today!!
Seriously – there is no "jewelry-ish" stuff involved – no tools at all!
And it goes together sooo fast – I think the whole thing took me a half hour – tutorial photos and all!
Leather and Lace Loved Bracelet
Isn't it pretty?
I love the combination of the leather and lace!
Loved Leather and Lace Cuff1
Now – even if you can't find a word for your bracelet (mine is from Michaels) you could easily change that out and use a pretty cameo, pendant, or anything fun like that!
Here's what you'll need to make your own!
Leather bracelet piece (mine came from Michaels but if you can't find something similar you can cut one from leather yourself)
Lace pieces – one thinner than your leather piece and one thicker
Loved charm (or something similar)
E-6000 glue
Source: flamingotoes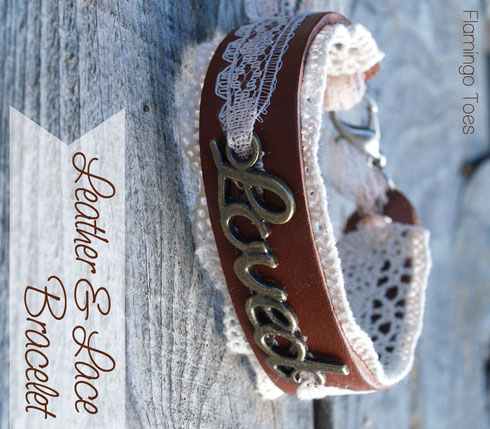 Cut your thin lace about twice as long as your leather piece.
Thread the lace up through the hole on one end, then through the left hole of the charm. Then go down through the left hole in the center of the bracelet. (If your leather piece doesn't have the holes you can make them with punches).
Bracelet Assembly
Bring the lace back up through the right small hole, then through the charm, then through the hole at the other end of the cuff.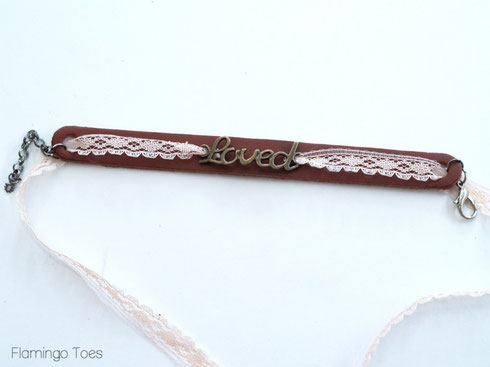 Cut the thicker piece of lace just a bit smaller than the length of the leather piece. Glue the cut edges of the lace in just a bit on each end.
Lace for Bracelet
Glue the lace to the back of the leather piece. Tie the small pieces of lace around the Jump rings at each end of the leather.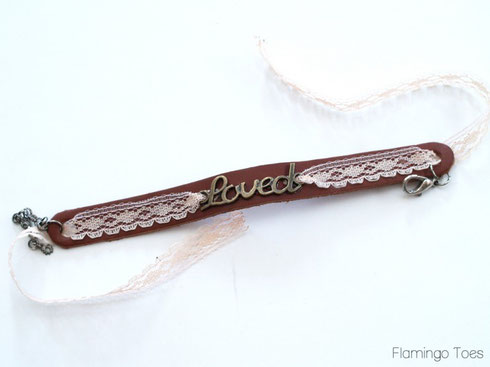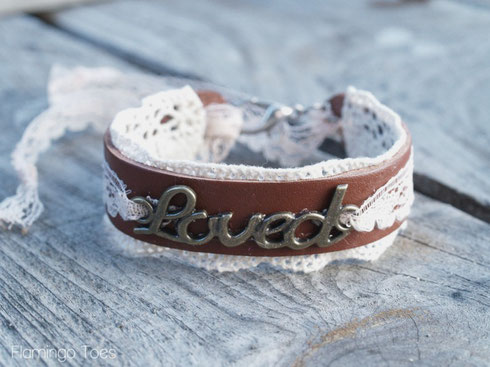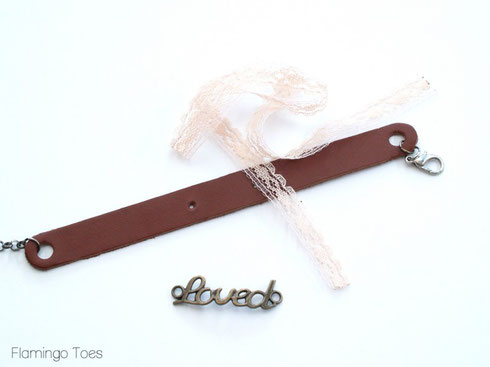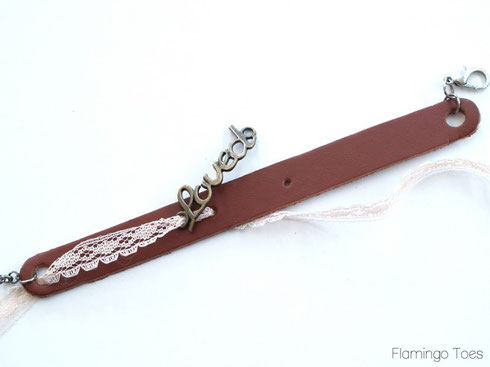 Pull the lace to the side just a bit and apply just a tiny bit of E-6000 under the lace. This will help it lay flat and look nice.
Do the same under the Loved charm, or whatever your focal piece is.
Gluing Lace on Bracelet
Repeat for the other side. Now your lace should all be glued down.
And that is it! Seriously – how easy peasy is that?!
Loved Bracelet
This would be great for Valentine's or Mother's day too!
Lace and Leather Bracelet
This bracelet is also perfect for the She's Worth It campaign!