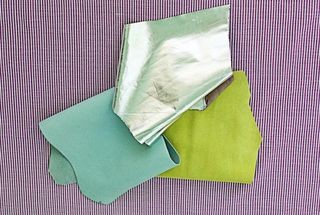 Hey everyone, It's Janae! I wanted to share a DIY for soft soled baby gladiator sandals. I made these for my baby Hazel, and I love them so much! This is a really easy project! Mine are pretty girly, but if you have a boy you can alter them. Buy brown leather and shorten the straps to make them look more gender neutral. The great thing about this project is that is is totally customizable! Have fun with it, and change things up! Here is how I made Hazel's.
Source: abeautifulmess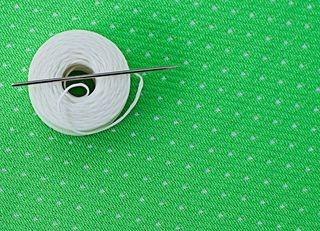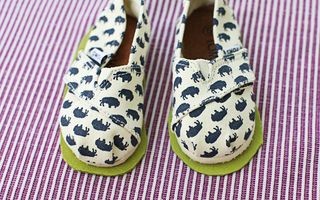 3.A strong needle!
4.Scissors or an exacto knife.
5.Leather string
If you live in Springfield, go to Springfield Leather! They have so much to choose from, and they are very nice. If you don't have a local leather shop, you can shop at Springfield Leather online: http://springfieldleather.com.
+++I measured everything on my baby, she is a size 5 infant. Measuring your child will help you when buying your materials.+++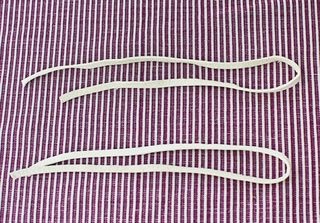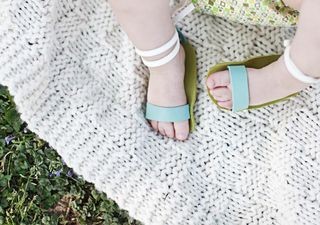 Next I cut out 2 squares that were 1 1/2 inches X 1 1/2 inches (will be bigger if you have a bigger child). These will be the backing to support the heal.
DIY-7
You can use one continuous 3 inch strip too. I just wanted to add a little dimension.
Turn it under and sew it on the edge of the heel.
Next, take your leather string and tie it around your child's ankle. I I didn't want mine to be too "strappy", so I just put it around her ankle twice.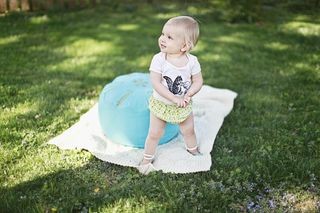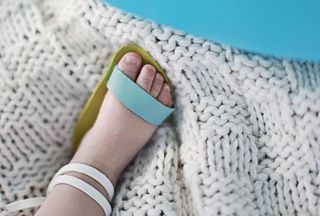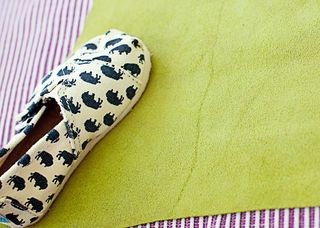 What you'll need: Leather or faux leather(make sure it's not too thick for the needle to go through).
1. One square foot of fabric(depending on your child's shoe size).
2.Wax coated string. You can use regular heavy duty string, but the wax coated is really easy to work with.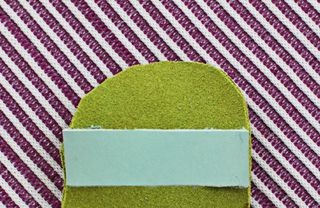 Start by grabbing a pair of your child's shoes. Put the shoes on top of your leather. Then, cut along the sole so you can get an exact size.
DIY-4
After you cut the soles,measure the length of your child's upper foot (right under toes).
DIY-5
Cut 3/4 inch wide strip of leather. The length should be your previous measurement. Place the strip so it fits right under the toes. Turn one side under and sew it to the sole. Be sure to get the edges as close together as possible. Sew the other side, and make sure it is secure enough to hold wriggly toes!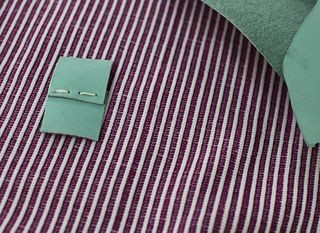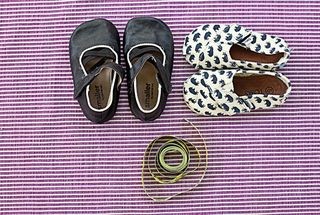 Mark where you would like it, and cut it.
Take the middle of the leather and sew it along the upper part of the heal support.
DIY-10
DIY-11
DIY-12
Depending on the size of your baby, you may need to add an extra strap if the sandal fits too loosely. Just sew an extra strip right under the toe strap.
DIY-14
DIY-15
There you go! These shoes are perfect for beginning walkers and soft enough for babies who can't walk yet. Have a lovely weekend! Janae